Project summary
Name of the case study
Angelina Street housing regeneration scheme.
Where is it located?
UK
What type of activity is it?
Regeneration - existing dwellings have been demolished and replaced with new build.
Short description of the case study
Cardiff County Council (CCC) is embarking on a Ł25M city wide housing regeneration scheme involving numerous sites throughout the city. It is hoped that the scheme will illustrate to private sector developers how sustainability can be incorporated into housing projects.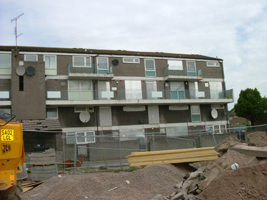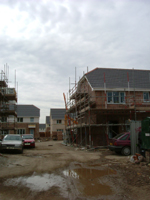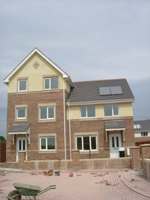 Angelina Street before, during and after redevelopment
One of the redevelopment sites, Angelina Street, previously consisted of 8 blocks of 4 storey maisonette accommodation comprising 108 family units. These were in very poor condition and experienced high levels of crime before redevelopment. These have been demolished and 48 new dwellings have been constructed. These comprise a variety of 2 and 3 storey units designed to suit the needs of residents who lived in the old maisonettes, and the future housing needs identified within CCCs Housing Needs Survey. Design initiatives include green areas, traffic calming and integration with local facilities to enhance the lives of the residents.
The development has utilised the approach 'to enhance and encourage partnering between 9 organisations to work in an open and non-confrontational atmosphere to encourage lateral and radical thinking towards a common goal of providing quality sustainable housing across all tenures'. The Angelina Street development is one of the first to use this type of partnering scheme. It is hoped that this development will set a "Cardiff Standard" for housing quality which is well above standards set by UK Building Regulations. A number of tools were used on this project to ensure that housing and the surrounding areas are as sustainable as possible taking into consideration needs of potential future populations.
This case study looks at neighbourhood redevelopment and the revitalisation of a derelict urban district.
What tools were used to assess sustainability?
Cardiff County Council (CCC) Sustainability Appraisal Matrix
Joseph Rowntree Lifetime Homes
Standard Assessment Procedure (SAP)
More information