Project summary
Name of the case study
The Royal Theatre "La Monnaie"
Where is it located?
Belgium
What type of activity is it?
Improving the day-to-day functioning of the theatre in terms of the environment
Short description of the case study
The Environmental management Control Panel tool has been developed to better understand, know, manage and minimise the different impacts of buildings housing specific activities. The considered activities, even often forgotten, play a decisive role in the economic development of cities' centers : services, SMEs, Microbusinesses, Public sector, etc.
For them, standard eco-management procedures (EMAS, ISO 14001, etc) are deemed too demanding to be used. Thanks to the accessible features of the Management Control Panel, the public cultural institution Royal Theatre "La Monnaie" in Brussels has made the first step, towards a more sustainable management. This tool is seen to be practical as it implements standard procedures into a more adapted form: indicators express the institution's operation as simple and compacts data. This tool also promotes a holistic vision of sustainable management defining performance indicators (operational, management and economic, etc.) in various domains (air, refuse, energy, noise, complaints, transport, etc.)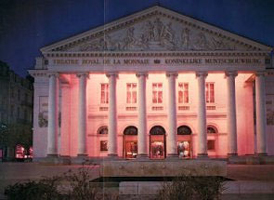 The Royal theatre "de la Monnaie", Brussels
An argument that motivated the Royal Theatre to use the tool is the fact that this tool does not stand alone. Other policies support it and offer guarantees. The Control Panel has been developed within a larger applied research project funded by the federal government and moreover, the project provides participating businesses with free environmental consultancy services and help. This tool was also chosen as practically pertinent as it aims to change the routine, not asking radical new development, modifying day-to-day behaviour, via performance indicators and public awareness. Comparisons with well-known and contextual references (benchmarking) also work in this way. The Control Panel is also a pertinent mean of promotion because it is conceived as a management and communication tool.
What tools were used to assess sustainability?
Environmental management Control Panel
More information