Project summary
Name of the case study
Gowerton Outfall
Where is it located?
UK
What type of activity is it?
Replacement of a section of effluent outfall pipe.
Short description of the case study

The Gowerton Outfall project involved emergency replacement of a section of collapsed sewage effluent outfall pipe on a tidal saltmarsh located near Loughor in Swansea, South Wales. This is a Natura 2000 site comprising Site of Special Scientific Interest, cSAC (candidate Special Area of Conservation) SPA (Special Area of Protection) and Ramsar site (Convention on Wetlands of International Importance Especially Waterfowl Habitat 1971 (Ramsar Convention) 1972). It is therefore a highly protected area and required special attention. Consideration of the effects of the works on the site which involved excavation of two 430m length 1350mm diameter pipes at a depth of 4.5m was necessary. Particular concern related to the reinstatement of the soil profile, ground levels and vegetation was essential.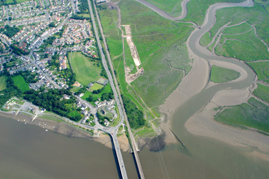 Location of the Gowerton Outfall and its proximity to the River Loughor
A range of tools were used to assess the impacts and ensure sustainability of the project including a company wide project management process to ensure a consistent approach to project management and environmental risk assessment tool. This company wide management process assisted the decision making process through the duration of the project.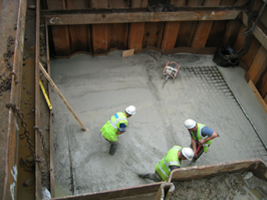 Installation of replacement outfall at Gowerton
This case study is linked to the key issue management and conception of urban water infrastructure.

What tools were used to assess sustainability?
Environmental Impact/Aspect Register and Risk Assessment
More information