Project summary
Name of the case study
Lyon Confluence major urban development
Where is it located?
France
What type of activity is it?
Regeneration
Short description of the case study

"Lyon Confluence" is currently one of Greater Lyon's biggest projects. The project consists of the urban renewal of an old industrial area into a city centre district containing residential, commercial and leisure facilities. Located between two rivers, Rhone and Saone, and long restricted to industry and transport facilities, the peninsula is undergoing a complete and extensive change. This strategic area is now being prepared for the function it should have due to its central and pivotal location south of the main Perrache railway station: a true city-centre location.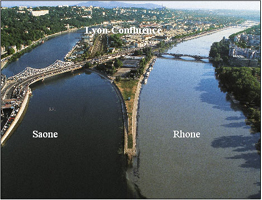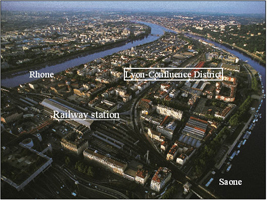 Lyon-confluence limits defined by 2 rivers (left) and Lyon-Confluence aerial view (right)
For Greater Lyon the Lyon Confluence project is a means of bringing to the city centre jobs, services, institutions and major events that mark a real capital, and thus establishing the city's future on the international scene. The project aims to :
­- create a new residential neighbourhood that will enhance Greater Lyon's standing
­- develop an inventive, appealing choice of urban leisure activities
­- highlight the rivers and the site's landscape features
­- reclaim industrial and logistical brown field sites ­open up the southern Peninsula, notably via public transport
In their consistency, height and density the blocks resemble the rest of the Peninsula, the same being true of the range of functions: residential, tertiary sector, leisure, retailing, services, public amenities and so on. The river setting, planted areas, riverbanks and inland pools make up a green blue network that distinguishes between Rhone and Saone while forming a unified whole and optimising the appeal of public spaces and landscaping.
The project presents a step to step land planning:
­- A first stage for 12 years (Concerted Development Zone). It is intended to set the process of change well under way. It will provide the basis for a central, attractive and lively neighbourhood embodying a dynamic, innovative image matching Greater Lyon's international ambitions.
­- A long term project for 30 years defined by "constants". Constants are fundamental elements on district development that will not change during the 30 years and that will give the area a unity. The long term project wants to be a major urban project well integrated to its environment.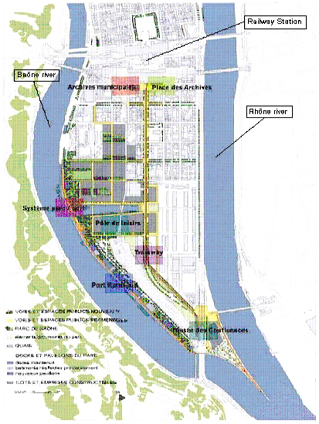 Project "Lyon- Confluence" (coloured area corresponds to the first stage of the project)
This case was chosen because "Lyon-Confluence" is a large rehabilitation project of an old industrial district into a city centre one containing residential, commercial and leisure facilities. Due to its central position, the project has grown up in a particular political context where general stakes were highly important for Lyon influence, and where political forces have already shown an interest in sustainability.
"Lyon-confluence"- case study is related to the PETUS key-problem "rehabilitation of derelict urban district" (from the neighbourhood development sector).
For further information on (.pdf)
(1)Application of a sustainable process for the real estate project (building project)
(2)History of the project through sustainability
(3)Extract of the High Environmental Quality specification (HQE)and
(4)CONCERTO project

What tools were used to assess sustainability?
CONCERTO
Global Approach
Partnerships
Public Consultation
Specification
Urbanisation Procedure
More information