Project summary
Name of the case study
Project for a New Bridge over The Danube (Vidin -Calafat)
Where is it located?
Bulgaria
What type of activity is it?
New development
Short description of the case study
The case presents in detail the development of a project for the construction of a new bridge over the Danube. The proposed new transport link would serve local, regional and long-distance traffic between Western and South-Eastern Europe along the route of Pan-European Corridor 4. The construction of a second Danube crossing is of strategic importance and could generate benefits not accessible by traditional projects of national scale.
The case illustrates EIA implementation under peculiar conditions that require trans-border co-operation and coordination between Bulgarian and Romanian governments. As the construction of a new bridge over the Danube is a priority of EU transport corridors development, an effective interaction of EU policy documents with national legislation and regulations of both countries was required. The bridge is expected to significantly influence the urban development of the town of Vidin, so its impact to local processes was also to be evaluated.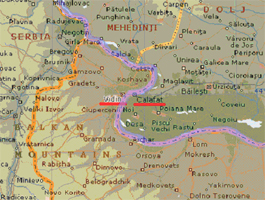 Locality of Vidin town
This case study is related to the PETUS key issue- Transport key problems: Overall impact of a new transport connection or the improvement of the capacity of an existing one
What tools were used to assess sustainability?
More information