Project summary
Name of the case study
Porte des Alpes urban development
Where is it located?
France
What type of activity is it?
New urban development
Short description of the case study
The "Porte des Alpes" site is considered as a strategic site for the development of the city of Lyon and its urban agglomeration. The project site is not in the densely populated part of the urban community and its ambition is to increase the value of the "Est Part" of Lyon in improving the economic development and the landscaping.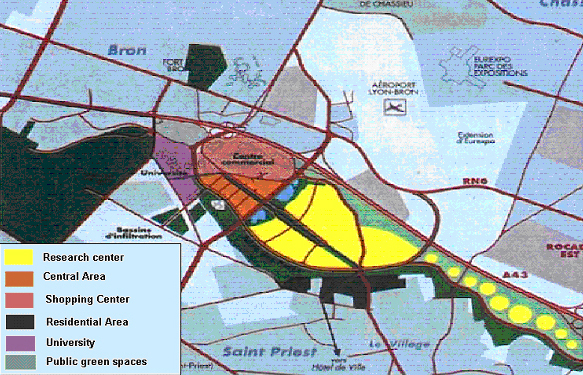 Presentation of the project spatial disposition (source: Greater Lyon leaflet)
The main urban elements developed in the first part of the project are a research park, residential areas, a tramway, green spaces and a ring road. A second phase of the project is starting up including a central area, and extensions for residential area, green spaces and the research park. This project would not have been possible if it had proposed an economical development only. The use of water management adapted infrastructures, the implementation of a ´CDZ procedure´ (Concerted Developed Zone), the use of coordination structure between different partners and procedures, and the consideration of social elements have enhanced the project, which presents some sustainable aspects.
This kind of project, where solutions adapted to the context have been implemented, raised some specific problems, like the loss of information about the use of the facilities.
The case was chosen because it is a pilot of concerted development zone (CDZ), and a showcase for other sites. The first approach of this project was a sector specific one: the entry point was the storm water management (see case study "Porte des Alpes Storm water management"). And then it appears that the combination of a sector specific case study concerning water management combined with a building & land use one was very interesting, for example to see if decisions and solutions are stable e.g. if a decision taken at low level is the same at a higher level. It is therefore recommended to read both case studies in order to have a complete vision of the project: this case and the water management case. The opportunity to propose this vision has led us to choose this project as a case study.
This case study can be related to the key-problem of the "neighbourhood development" section: development of an urban district.
As this project also presents an interest in water management, it can also be related to 2 key-problems from the water/sewage section
- The water resource quality and availability
- Management and conception of urban water infrastructures

What tools were used to assess sustainability?
Charters to manage multi purpose facilities
´Concerted Development Zone´ procedure (CDZ)
More information