Project summary
Name of the case study
New Tredegar Regeneration Scheme
Where is it located?
UK
What type of activity is it?
Regeneration of deprived village.
Short description of the case study
New Tredegar, a former mining town, is the ninth most deprived ward in Wales with residents experiencing social deprivation and associated health problems as a result of little economic investment over many years.
The New Tredegar Regeneration Scheme undertaken by Caerphilly County Borough Council (CCBC) is focused around land reclamation works and the construction of a new school. Associated works include a new road to reduce traffic in the village to create a safer environment, industrial units, a community wing, including an Information Technology (IT) suite/cyber café, a healthy living centre, a crime prevention centre/police station, community hall and a learning centre/library. The whole community will therefore benefit from the cleaning up of contaminated land and a wide-range of facilities that are being built.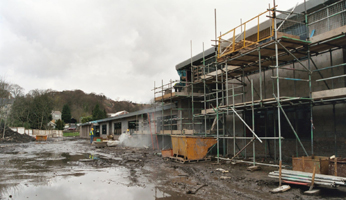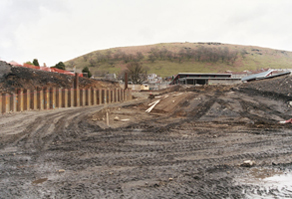 Construction of Ysgol Gynradd Rhosyn Gwyn School, April 2004 (left) and engineering works underway for modification of the road network (right)
The development is guided by four tools; an Environmental Impact Assessment; the Constructing Excellence Sustainability Indicator Assessment Tool which guides sustainability of the development, and Construction Partnership and KPIs which affect the Project management.
The construction partnership has involved the voluntary sector in all areas and the community is encouraged to be involved in the decision making process.
This case study is concerned with neighbourhood development and the revitalisation of a derelict urban district.
What tools were used to assess sustainability?
Constructing Excellence´s M4I Sustainability Project Performance Indicator Assessment Tool
Environmental Impact Assessment (EIA)
Key Performance Indicators (KPIs)
New Tredegar Community Partnership
More information