Application of tools
Name of the case study
Rehabilitation of water supply network in urban fields (CARE-W-ARP)
---
Name of tool
CARE-W-ARP
Description of tool - character
Care-W-arp is a calculation tool/assessment method: Multi-Criteria-Analysis
CARE-W-ARP, the annual rehabilitation programme module of the CARE-W suite of software, is dedicated to the definition of rehabilitation priorities. Each pipe is represented by a multi-criterion profile. A multi-criterion profile is the graphic representation of several criteria relating to one pipe that have been previously calculated.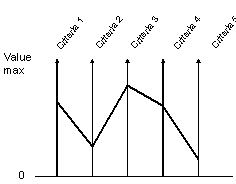 Example of multi-criterion profile
Description of tool - availability
This tool is available for a fee. The tool will soon be marketed by Care com company.
Description of tool - existing

Description of tool - adaptation

---
What tools were used to assess sustainability?
More information