Project summary
Name of the case study
Maurice Audin Storm Water Detention Basin
Where is it located?
France
What type of activity is it?
Restructuring
Short description of the case study

The Maurice Audin storm water detention basin (20 000 m3) belongs to the Department of Seine Saint Denis. A department is a subdivision of France administered by a prefect. This basin infrastructure was old, closed to public and often vandalized. The site was dangerous for people living near and for children who were used to play there. After public consultation, the decisions to rehabilitate it and to secure it have led the Department to open it to the public and to manage it jointly with the municipality.
The main restructuring action consists in considering different parts for different purposes: (i) a covered part closed off to prevent the playground's flooding for regular rains and to enable a pre-treatment by decantation; a real time control has been installed in this part, (ii) an open zone, liable to flooding, that is only used for flooding one or twice a year. This zone includes playgrounds and sport facilities (see photos).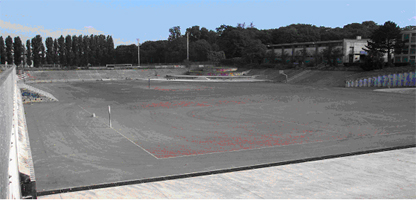 Maurice Audin Basin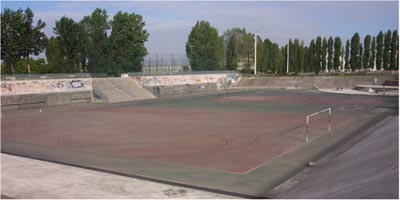 Maurice Audin Basin. In background is located the covered part of the basin (under the stairs).
Public consultation/information procedures have been implemented. Agreements between department and municipality have been defined to assign responsibilities.
This area is now the major sport area of the city.
Click here for a definition of Storm water management(.pdf)
What tools were used to assess sustainability?
Meetings and inquiries
Partnership
Real time control system
Consultation
More information