Project description
Name der Fallstudie
Awel Aman Tawe Community Energy Project.
Description of context
• The National Assembly for Wales has a binding legal duty to pursue sustainable development in all it does. This is built into its constitution through section 121 of the Government of Wales Act.
• Local Agenda 21, Launched at the Rio Earth Summit in 1992, aims to make sustainable development a reality in communities around the world. This involves the environment, but also people and their entitlement to a reasonable quality of life.
• Neath Port Talbot Community Plan 2002-2012 contains six themes/priorities: economic prosperity; better health and well-being; crime and disorder; education and lifelong learning; environment and transport; and confident communities.
• Neath Port Talbot County Borough Council Unitary Development Plan has sustainable development as its central theme. A vision for the area surrounding the proposed wind farm site includes ?helping communities remain self-sustaining and helping conserve and promote the welsh language?.
• The Welsh Assembly Governments Communities First programme is based on the need to prioritise communities on the basis of social and economic needs. "The Communities First Programme is seen as leading the way in giving local communities the power to influence the decisions of the Authority and other partners as part of the Community Plan process" Neath Port Talbot Borough Unitary Development Plan ? Deposit Draft January 2003 "Community and Social • Supporting policy guidance can be found in the National Assembly for Wales Technical Advice Note 8 (1996) Renewable Energy National Assembly for Wales.

Description of project - background
Awel Aman Tawe is a community energy project which developed from a community meeting in 1998 that was held to discuss social and economic problems in the Aman and Upper Swansea Valley. The organisation is based in a local primary school in a semi-rural, former coal mining village in the Upper Aman and Swansea Valley, South Wales. The project spans two valleys, engaging with approximately 13,000 people in 14 villages.
The project originates from a Local Agenda 21 meeting in 1998, when the suggestion ?wind farms not open-cast mining? was made. As a result, following eighteen months of research into the wind industry, a group of individuals decided there was a need for a move towards wind farms with greater local control. An energy focused community regeneration scheme was developed, with a strong awareness of the importance of local decision making, local ownership and management and the local benefits that could be achieved from the harvesting of local resources (Hinshelwood, 2003).
Awel Aman Tawe initially intended to focus on a community wind farm, for which an application for planning permission was submitted in October 2004 to the local planning authority, following a large public consultation (through the Participatory Assessment Process) and an EIA. As a result of the use of the Sustainable Livelihoods Approach (SLA) the project has now expanded its scope. 15 different projects are currently underway including the installation of solar hot water panels on a community centre, community hall and cinema, a photovoltaic roof for the local school and a small housing development incorporating solar hot water, flax insulation and biomass fuel heating using wood pellets.
The proposed wind farm will consist of 5 turbines. The profits from the sale of electricity will be channelled into community initiatives such as an education centre to attract school groups and tourists, as well as supporting small businesses and local regeneration projects. This will help to build capacity within the local area, developing new skills in the population through an emphasis on community leadership, management and control, and increasing the likelihood of sustainable development locally.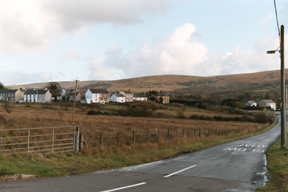 Location of proposed windfarm
Photovoltaics have recently been installed on three community buildings including Gwaun Cae Gurwen School. Excess electricity will be sold back to the grid. In addition the Renewable Obligations Certificates will provide funding for each kilowatt of energy produced which is approximately ?500 a year.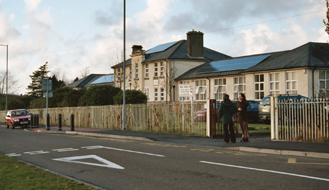 Photovoltaic panels on Gwaun Cae Gurwen School
A sustainable housing project is also being driven by AAT, with funding from the Welsh Assembly Government. The scheme involves biomass district heating for 14 sheltered houses, which are also being fitted with flax insulation and solar hot water panels. The houses are being constructed by the ?Family Housing Association?.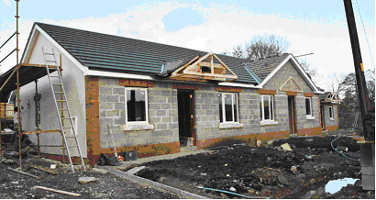 Biomass housing scheme during construction
Description of project - objectives/aims
Economic, environmental and social factors are all driving this project. The project began as a way of finding an alternative energy generation methods to open cast coal mining and includes in one of its aims, the generation of local training and employment, as a way of regenerating a depressed former coal mining community.
AAT?s overall aim is to help regenerate the Upper Aman Valley, an area of deprivation, by working with the local community to:
(i) develop the first community led wind farm in the UK,
(ii) use a community led approach to encourage energy efficiency,
(iii) increase the use of other forms of renewable energy in the area,
(iv) use the lessons learnt to enable the community energy sector to develop in the UK,
(v) generate local training and employment opportunities,
(vi) treat speakers of Welsh and English on an equal basis,
(vii) work towards the reduction of fossil fuel emissions,
(viii) raise awareness about renewable energy and energy efficiency,
(ix) develop links with European Partners.
Description of project - time interval and stages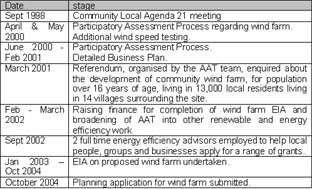 Stages of project realisation
Description of project - financing
The project has received funding from a wide range of organisations: European Research Development Fund (ERDF), Objective 1; Welsh Development Agency; Community Regeneration Toolkit; SWALEC; Environment Wales; Enfys; Neath Port Talbot Council Community Regeneration Fund; Energy Savings Trust; New Opportunities Fund; Millennium Fund; Wood Energy Business Fund; Brecon Beacons National Park - Sustainability Challenge Fund; Key Fund, Foothold; Neath Port Talbot Council for Voluntary Services; Scottish Power; and the Local Regeneration Fund.
Description of project - other sectors involved
-
Welche Tools wurden verwendet, um Nachhaltigkeit zu beurteilen?
For the Awel Aman Tawe Project as a whole:
Sustainable Livelihoods Approach (SLA)
For the wind farm proposal:
Environmental Impact Assessment (EIA)
For the wind farm proposal:
Participatory Assessment Process (PAP)
Weiterführende Informationen (nur auf Englisch):