Project summary
Name of the case study
Evaluation of the Hedebygade Block
Where is it located?
Denmark
What type of activity is it?
Building renewal, urban renewal
Short description of the case study
The case is interesting as it shows the tool green accounting of buildings being used as an evaluation tool at one of the most prestigious green urban projects in Denmark to date, the Hedebygade block. As a part of the urban renewal of the Hedebygade block, 12 different projects of urban ecology have been completed. This includes projects in 9 buildings, and 3 projects covering the whole block.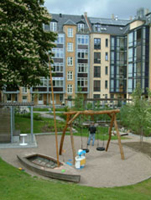 Buildings in Hedebygade seen from inside the courtyard.
The urban ecology in the Hedebygade block has been evaluated on: Economy, resident's satisfaction, industrial and innovative perspectives, architecture and environment. The environmental evaluation consist of: 1. a comparison between the performances compared to the goals that were defined for the projects in the beginning, and 2. green accounts for the buildings, including consumption of energy, water and total CO2-emissions from the energy use. The evaluation shows that 3 of the projects were able to fulfil the predefined success-criteria on environmental performance. In general, the average CO2-emissions of the 8 buildings is app. 10% lower than the average of Copenhagen, but very few buildings were able to reach the level for heat consumption in new buildings as defined in the building regulations BR95 (in heat consumption per sqm.). The projects in the individual buildings show very different results, however depending on which measures are used; measuring energy consumption per sqm often gives another result than measuring it per person. Therefore the evaluation also raises questions about which measuring units and benchmarks to use.
The Hedebygade block is one of the most prestigious green urban projects in Denmark so far, and one of the few projects that has been evaluated. The conclusions from the project and the evaluation might influence the efforts for sustainable buildings in the future. The case is related to key problems in the building & land use sector.
What tools were used to assess sustainability?
More information