Project summary
Name of the case study
URBAN I Graz and URBAN II link Graz West: Social and economic renewal of urban districts
Where is it located?
Austria
What type of activity is it?
The project aim to create revival of former industrial areas/buildings and socio economic development of those districts.
Short description of the case study
The case describes two city district revival processes in Graz, Austria, carried out one after another by the planning department under the framework of EU projects. The two processes address several thematic aspects of development and may be considered holistic. The processes focus on different aspects in two different districts: the first one concentrated on supporting many private initiatives in an inner city area with high social pressure;the second one supported mainly big infrastructure projects in a former industrialised area.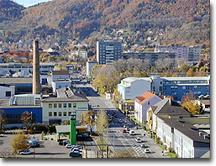 Former industrial area, Graz
No dominant guiding tool has been used in planning or carrying out these processes; the main decision making has been done on administration level without public participation (especially in the second process) although some small scale participation tools have been used. Processes are being documented via evaluation reports. Despite the absence of dominant tools, the case has been chosen to demonstrate usual top-down planning and decision making processes in urban planning.
What tools were used to assess sustainability?
URBAN Graz procedure
More information