Tool summary
Name of the tool
Multi-criteria-analysis (MCA) -(Helsinki Metropolitan Area Council (YTV))
Description of the tool
Helps in creating regional transport policies and comparing them - instead of having the normal situation with thousands of proposed investments to improve the transport system, and no systematic approach to handle them.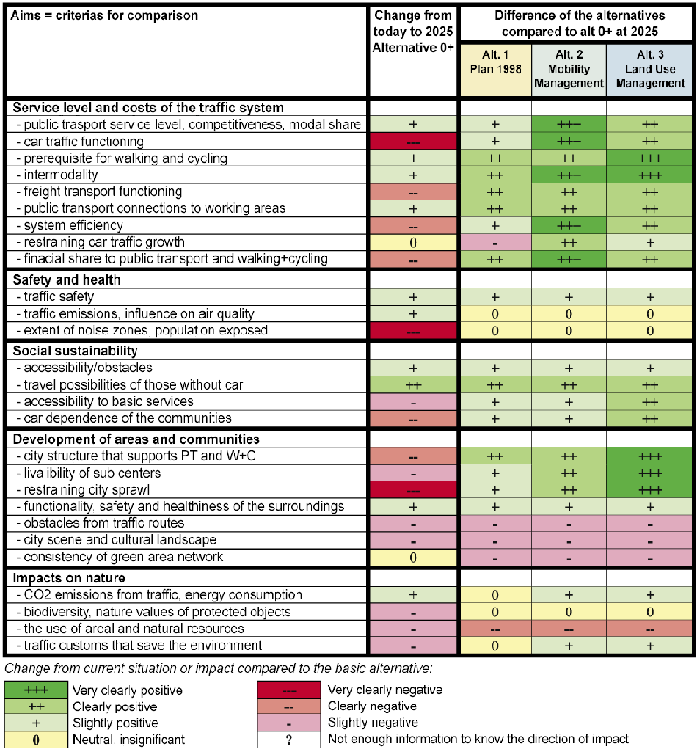 Table showing part of the multi-criteria analysis
The steps of implementing the tool are:
A. The alternative transport policies are determined.
B. The most important investments and other proposed actions (public transport projects, road projects and actions in traffic policy) are placed into the alternatives according to the impacts of the investment/action; the result will be that each policy alternative becomes a collection of concrete projects.
C. The criterias for the assessment will be chosen. In most cases these can be the same as the targets of the whole transport system.
D. The alternatives will be compared against these criterias using a weighted multi-criteria-analyses: the impacts of each policy alternative to every criteria will be measured or estimated, and the impacts will be placed into a scale from very clearly negative to very clearly positive. The overall impact of each policy is then summed up from these estimates. The criterias shall not necessarily be weighted numerically, but their different importance has probably in any case influence on choosing the elements to the final plan (next step).
E. The final plan will then be composed including the best elements of each alternative to the plan: so, none of the assessed alternatives will necessarily be chosen or recommended as such.
F. Finally the final plan will be "operationalised" listing the investments and actions following the choice of policy elements (and using the data of part B above), and creating a schedule for implementation of the investments and actions.

After this procedure the end users have knowledge enough on the impacts of each transport policy, and a concrete final plan including a scheduled list of real projects to be implemented. Now it is easy to make the decision.
Specific topic

Sector/s of use

| | | | | | |
| --- | --- | --- | --- | --- | --- |
| Waste | Energy | Water | Transport | Green/Blue | Building & Land use |
| 0 | 0 | 0 | M | 0 | 0 |
M - main sector, 1 - sub sector and 0 - n/a
Scale of applications

| | | | | |
| --- | --- | --- | --- | --- |
| Component | Building | Neighbourhood | City | Region |
| 0 | 0 | 0 | 0 | 1 |