Indicators and Benchmarks
Transport sector factors are easy to measure, and there are plenty of objects to choose for that. The amount of information collected even inside one city is enormous: from individual public transport trips to the total amount of energy used for transport activities, and pollution. Some typical - and interesting - data is shown below.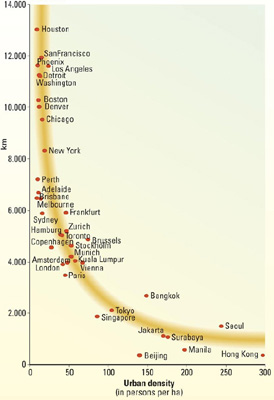 The relationship of annual car use per capita (1990) and urban population density (Kenworthy & Laube et al 1999, (4)).

Modal split is another important fact having influence on the travel and energy needed.(Rat (UITP), 2001, (4))
If the overall sustainability of an urban transport system should be described using only one indicator, that would be the CO2 emission from transport. Low emission is a result from compact city with minor need for travel, high share of walking, bicycling and public transport, and "clean" vehicles.