Tool summary
Name of the tool
Dispute Resolution Ladder
Description of the tool
Designed to prevent disagreements between partners from holding up a development, the Dispute Resolution Ladder exists in the form of a flow chart . The ladder ensures that minor problems do not escalate into damaging disputes.
The stages of the ´ladder´ have to be agreed upon by all partners and it then becomes a mechanism to enable decisions to be taken quickly and effectively. The concept involves quick identification of a conflict and parties involved to solve the problem in order to maintain project momentum.
A standard version of the tool (a Problem Resolution Flow Chart) has been produced by Constructing Excellence, a UK Government funded organisation working to improve the construction industry.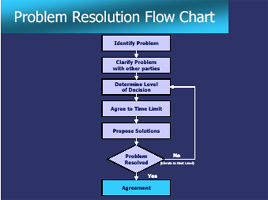 Problem Resolution Flow Chart
From: Constructing Excellence (2004) Partnering http://www.constructingexcellence.org.uk/pdf/fact_sheet/partnering.pdf
Specific topic
Dispute resolution
Sector/s of use

| | | | | | |
| --- | --- | --- | --- | --- | --- |
| Waste | Energy | Water | Transport | Green/Blue | Building & Land use |
| 1 | 1 | 1 | 1 | 1 | 1 |
M - main sector, 1 - sub sector and 0 - n/a
Scale of applications

| | | | | |
| --- | --- | --- | --- | --- |
| Component | Building | Neighbourhood | City | Region |
| 1 | 1 | 1 | 1 | 1 |