Project summary
Name of the case study
E.C.U.B. project
Where is it located?
Belgium
What type of activity is it?
Regeneration, renovation
Short description of the case study
In Brussels, a veterinary surgeon school inaugurated in 1910 (20 buildings surrounded by green areas), was left in a neglected state since 1991.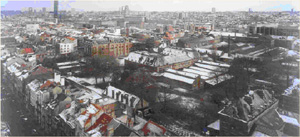 Picture of the site, Old veterinary school of Cureghem. General view of the ECUB project, master plan
In 1998, a private agency got interested in the site, its purchase and development ARTIM agency was created to propose a project for the whole site's reassignment, park and buildings. This project called ECUB was located in the Cureghem district whose image is deeply marked by industries departure and urban decline. The IBGE-BIM (Brussels Institute for Management of the Environment) got involved in this project and deliberated to transfer their offices on the site. A public and private partnership started then between IBGE-BIM and ARTIM for the development of the ECUB project as an Eco-center*
From 1998 to 2002, the concept was investigated. ARTIM made many preliminaries contacts and became aware of regulations and sustainable concepts. The IBGE-BIM stressed on inter-connections with the social context and the management of green areas. Progressively, the 2 partners used various tools that helped the conception stage clarifying some goals and finding parts of the solution.
In 2000, an architecture competition was organised and tools like HQE and BREEAM were used to assess different sustainable aspects shown off by the participants. The project was clarified and took the shape of an eco-centre* with an holistic sustainability-program: reduce the energy consumption, build ecologically, mix functions, contribute to the neighbourhood revitalization, open green spaces to the public, preserve cultural heritage, etc.
In November 2003, the project felled through because of real estate availability. ARTIM (the private partner) dismembered the site and sold it into pieces.
Regards to this experience, the IBGE-BIM, the public partner of the project, specified conditions for such a pilot operation**. Mobility, building management, work organisation, etc. are important parameters. The technical specifications of building and renovation projects must be rigorously guaranteed. The site must be open to inspection and all the choices must be substantiated. Public control over the project is essential and a simple lease does not provide that guarantee. Partnerships, including financial partnerships, that help to ensure this control, are being sought.
An analysis of potential sites, alternatives to the surgeon school of Cureghem, is now underway.
* An eco-center's definition has been elaborated under the Ecolink project (described futher on)
** It is a pilot operation as many eco-sites are developed through Europe but rare are those located in city centre.
What tools were used to assess sustainability?
B.R.E.E.A.M. (self-made adapted version)
H.Q.E. (self-made adapted version)
P.R.A.S. (Regional Ground Assignment Plan of Brussels´ Capital Region)
Raw materials list (environment friendly)
Socio-town-planning analysis
T-RNSYS (energy management)
More information