Project summary
Name of the case study
Llandarcy Urban Village
Where is it located?
UK
What type of activity is it?
This is a redevelopment scheme (i.e. a development that changes the use of the site).
Short description of the case study

The development at Llandarcy will be the UK's largest Urban Village. An Urban Village can be defined as 'a very well integrated mix use development – bringing homes, schools, shopping, work and other activities closer together within the context of a walkable neighbourhood and with good quality pubic transport links' (Neath Port Talbot County Borough Council, 2003).
The Prince's Foundation promotes Llandarcy as "the first Urban Village project in Wales; ensuring quality of design and delivery and adherence to the principles of sustainability, mixed use and urban density. The aspiration is to meet all of the criteria promoted by the Urban Village Concept"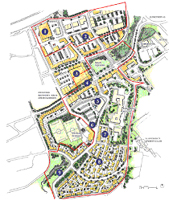 Phase 1 layout plan of Llandarcy Urban Village (Alan Baxter & Associates)
The proposed development is a large scale regeneration project on 1,300 acres of land that was formerly the site of the first crude oil refinery in the UK. The urban village will include homes, commerce and industry, built on a vision of creating a place and community through the use of sustainable principles, a respect for the unique landscape, a relationship to the local architectural vernacular forming a connection with existing settlements and the creation of social prosperity. The project has been guided through a number of very effective and well functioning tools, especially the Building Research Establishment Sustainability Checklist for developments: A common framework for developers and local authorities, which the consultant adapted for the project.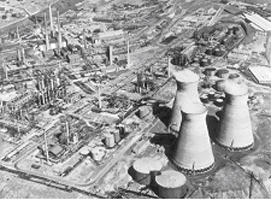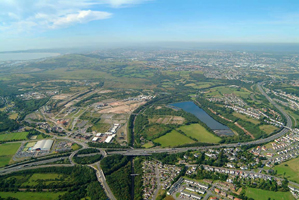 Historical aerial photo of Llandarcy Oil Refinery in operation (left photo) and an aerial photograph of the area now - the future Llandarcy Urban Village site (right photo)
The case study is connected to the PETUS key problems:
• Land planning: sustainable balance between economic growth and a social and environmental sound development (from the building & land use planning sector),
• Revitalisation of a derelict urban space and
• (Re)development of a urban district.

What tools were used to assess sustainability?
BREEAM (Building Research Establishment Environmental Assessment Method).
Building Research Establishment (BRE) Sustainability Checklist;
More information