Project summary
Name of the case study
Baglan Energy Park Phase 2
Where is it located?
UK
What type of activity is it?
Reclamation.
Short description of the case study
Baglan Energy Park Phase 2 is part of the Baglan Bay redevelopment scheme, one of the largest redevelopment sites in Western Europe. The Baglan Bay site occupies 500,000 hectares and was previously occupied by a chemical works and steelworks, where infrastructure had to be demolished and the land cleaned of any contamination once operation ceased. This case study looks at the process involved with preparation of the 70 hectare site for future use i.e. land reclamation and installation of basic infrastructure.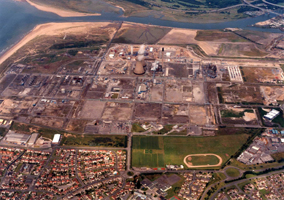 Aerial photo of the Baglan Energy Park site
£9 million has been spent to carry out the work including landscaping to provide high quality environment for future works. The area of land is currently vacant however is due to be developed to include plots for factory developments and bespoke construction projects.
Selection of tools was focussed around good site practice which it was hoped would generate a sustainable working mechanism. A number of the tools were selected to encourage working together between the team which it was hoped would generate a sustainable project.
What tools were used to assess sustainability?
Constructing Excellence Movement for Innovation (M4I) Sustainability Project Performance Indicator Assessment Tool,
Environmental Impact Assessment (EIA)
Environmental management system: ISO 14001
Hochtief/Griffiths QUENSH (Quality, Environment, Safety and Health) plan
Key Performance Indicators (KPIs)
More information